---
Foilex are representing other world leading manufacturers of Oil Spill Response Products for the Swedish market.
These products also complets our own Skimmer and Pump Systems when delivered as "ready to use" packages.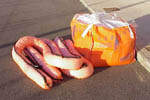 ECOSORB
The ECOSORB Absorbents provide effective solutions for containing oil and chemical spills. Practical formats and great absorption capacity assure easy handling and keeps transport, storage and disposal costs to a minimum.

OIL Series
Vegetal fiber and fully biodegradable. Absorbs oil and repel water.
OIL R Series
Polypropylene fibers which do not rot. Absorbs oil and repel water.
CHEM Series
Polypropylene fibers. Absorbs any kind of liquids and chemicals.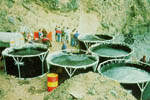 FASTANK
The award winning FASTANK provides a flexible solution to the permanent or temporary containment of polluting liquids including oil and chemical spill clean up, fire fighting, military, fish-farming, and animal rescue.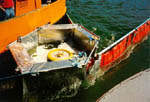 HIGH SPEED CIRCUS
Blomberg High Speed Circus is a oil collecting device for Foilex Skimmers when fighting oil spills in fast current rivers or with sweeping wessels in speeds up to 4 knots.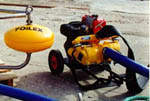 SPATE PUMPS
The Spate Pumps handles dirty waters, slurries and spill oils all at a high, non turbulent flow rate.
The pumps can be runned dry indefenitely and are available with electric, gasoline or diesel engines.
The Spate pump is a part of Foilex Mini Skimmer System.
For complete and detailed information regarding the above products, please contact our Sales & Marketing Department.
---
www.foilex.com