---
TDS Off-loading Pump Systems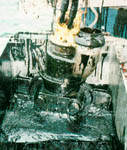 Foilex TDS Off-loading Pumps are hydraulically driven heavy duty submersible Twin Disc Screw pumps, specially developed for off-loading or transfer pumping of high viscous products such as crude oil, bunker oil or emulsions.

Suitable applications are in oils with a wide viscosity range. They can handle oils from lightest diesel fuel to extremely high viscous crude oil mixed with debris.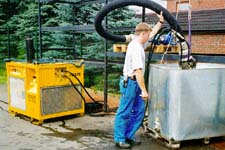 The TDS Off-loading Pump System consists of the following products:


The heart of the TDS Off-loading Pump System is the hydraulically driven TDS Off-loading Pump which is a small portable unit in stainless steel with vertical discharge line parallel to the hydraulic hoses.

The compact TDS design combines 50-70% higher capacity with extremely small outer dimensions which makes the small TDS 150 Off-loading Pump go through a standard Ø12 inch "Butterworth" hatch.

The TDS Off-loading Pumps are powered and controlled by Foilex own range of diesel or electric driven Hydraulic Powerpacks via the hydraulic hoses.

The Hose Package consists of hydraulic and discharge hoses stored on Foilex specially designed Hose Reels for easy transport and handling.
---
www.foilex.com