---
Foilex submersible TDS Pumps are manufactured in two different versions. Both are based on the patented "Twin Disc Screw" Technology developed by Foilex in 1990 resulting in up to 70% higher capacity than traditional screw pumps.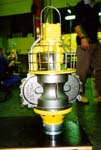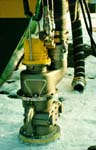 The TDS Pumps are hydraulically driven, powered by Foilex Hydraulic Powerpacks or available ships hydraulics. Foilex also provide suitable Hose Packages for connection of the Pumps and Powerpacks.

Area of operation for the TDS Pumps are off-loading or transfer pumping of high viscous products such as crude oil, bunker oil and emulsions.
They are all portable and easy to use but also suited for fixed installations in various types of oil combating vessels or skimmer systems.
FOILEX TDS 150 OFF-LOADING & SKIMMER PUMP

---

A small, light weight and high capacity pump, which fits into a "Butterworth hatch".
Capacity:
Cont. 0-37 m³/h (165 USgpm)
Dim:
510x265x298mm (20x10,4x11,7in)
Weight:
35 kg (77 lbs)
System description
FOILEX TDS 200 OFF-LOADING PUMP

---

Heavy duty submersible pump, specially developed for off-loading or transfer pumping duties.
Capacity:
Cont. 0-70 m³/h (310 USgpm)
Dim:
42x31x68 cm (17x12x27 in)
Weight:
90 kg (200 lbs)
System description
FOILEX TDS 250 OFF-LOADING PUMP

---

Heavy duty submersible pump, specially developed for off-loading or transfer pumping duties.
Capacity:
Cont. 0-140 m³/h (620 USgpm)
Dim:
55x36x74 cm (22x14x29 in)
Weight:
120 kg (265 lbs)
System description
www.foilex.com