---
FOILEX TDS PUMP FEATURES
Displacement and Pump Screw diameter are the two important design parameters that gives the Positive Displacement Index, PDI of a Screw Pump. The Positive Displacement Index is independent of pump size and pump speed.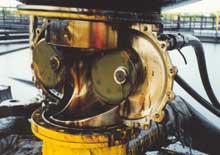 Positive Displacement Index:
PDI = 7 x D / d3
D = Displacement
d = Screw diameter
The FOILEX TDS Design has a
PDI = 1,7 which is 70% more compared to other Archimedian screw pumps today.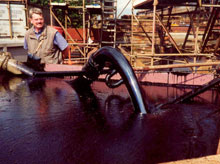 The large displacement provides high output capacity in low to medium viscosity oils or......operate efficient at low rpm in high viscous oils with a minimum of emulsification.
The combination with large exposed pump screw area and large discharge connection gives unique capabilities for high viscous oil pumping.
---
www.foilex.com