---
More FOILEX Pump Features
To reduce pressure drop and pipe resistance to a minimum, especially when pumping high viscous oil, it is of great importance to keep the discharge hose / pipe diameter as large as possible.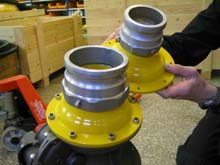 Pipe resistance will drop significant when going from Ø 3" to Ø 8".

Outlet Diam. vs Pressure Drop

Foilex TDS Pumps have exchangable Discharge Cones from Ø 3" to Ø 8".
---
www.foilex.com