---
More FOILEX Pump Features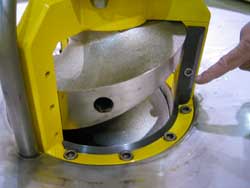 The pump inlet is equipped with three cutting tools and one circular cutting knife in hardened stainless steel for efficient debris handling.

The high torque motor is sufficient to cut all type of debris such as wood, seaweed, plastics, ropes, etc.

The larger TDS 200 and 250 Pumps are at its outlet also equipped with four hardened stainless steel cutting knives to prevent clogging, etc. All cutting devices can easily be sharpened when worn out.

---
www.foilex.com